Avery Mertz thinks it's funny when someone calls her a jock and "takes it as a compliment, somewhat," she says.
Avery hit the ice for the first time when she was just five-years-old, playing for the Harrow Rams. Now, this Lee & Maria's Market Specialist plays forward for the University of Windsor Lancers. "Whenever I'm on the ice, I'm the happiest."
While not on the ice, unsurprisingly, Avery likes rollerblading. She also likes biking, hanging out with friends, when not in quarantine, and eating. Her go-to fruit is strawberries. "They're a tasty, healthy snack," she says. Some may say peppers are the same, but Avery is not one of those people. "Have never liked them, and I don't think I ever will."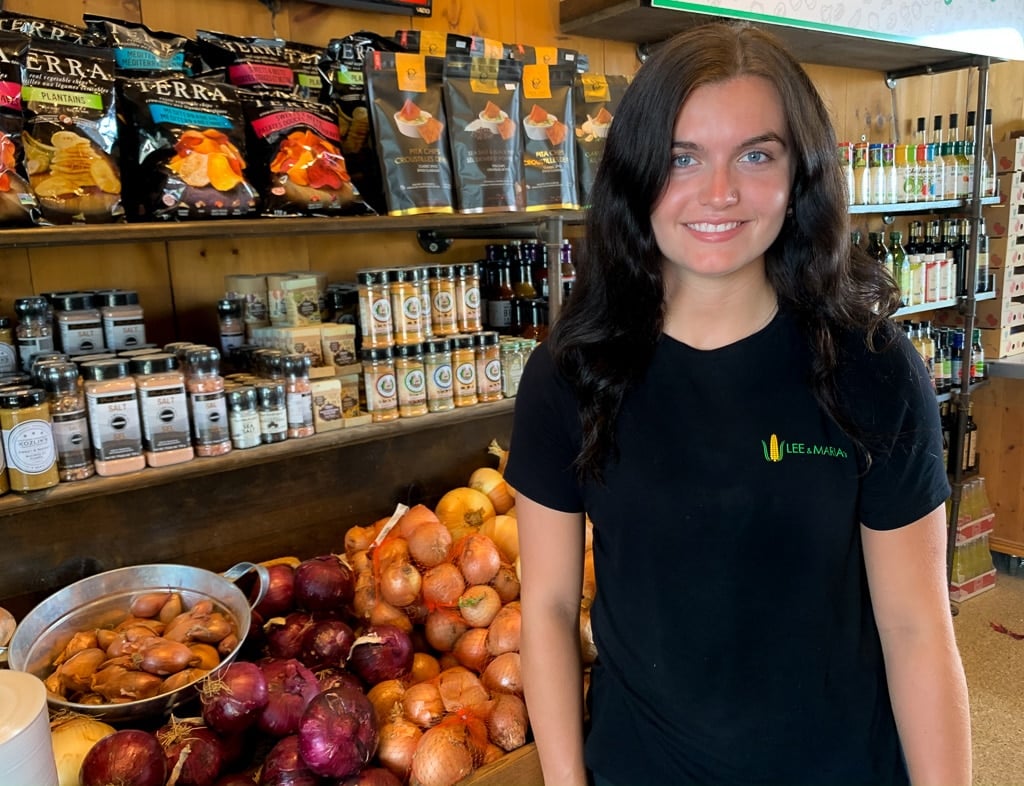 You realize quickly how much work it takes to run a farm.
One of Avery's favourite trips was when she visited Maryland and their "super nice" beaches. She was there for a fastball tournament.
Lee & Maria's is the first time Avery, who is studying criminology and psychology at the University of Windsor, has worked on a farm. "You realize quickly how much work it takes to run a farm," she says. "My bosses are here all day, working so hard to make sure everything is done and ready to go for the customers and us. It really opened my eyes to how much it takes to run a business and a farm."
Her favourite part of working at Lee & Maria's is her coworkers and the vibe. "We are all so close and get along so well, I truly enjoy coming to work every day. We have the best customers by far, everyone is so sweet and understanding of everything happening during the pandemic."
Avery began working at Lee & Maria's during the height of the pandemic, initially focusing on building In-Market Pickup order. "The little notes customers write on their orders, like 'Thank you so much' and 'We love you guys' really brightens everyone's day, and all of us really appreciate it.
Learn More About the People, Crops & Products that make Lee & Maria's Special
Supporting Healthy Eating on #GivingTuesday
KINGSVILLE - On this #GivingTuesday, we are supporting people who find barriers in accessing healthy food options. We are donating $4,000 in cash and fruits and vegetables, spread across non-profit organizations that help those in need across the region.
New Names, Same Great Services
Some of our most popular services at Lee & Maria's are getting a new name. Less confusion equals more happiness. Learn more about changes coming to some of your favourite services.
Booch Kombucha: Local Producer Spotlight
By Rylee Wallace - A healthy lifestyle is always important to maintain; however, when you have an autoimmune disorder like Celiac Disease, it's even more essential to sustain a healthy lifestyle and diet! Shannon Kamins was a Health Science student at Western University when she started brewing her own kombucha in hopes of reducing the pain caused by her Celiac Disease. She would set up for the lengthy process on her kitchen counter, brewing 10 litres at a time, adding specific medicinal herbs she knew would be the most beneficial to her health, such as chaga mushroom, wild rose petals, and bee pollen.
Chelsea Stevens-Wiebe: Team Bio
Working at Lee & Maria's was a dream come true for Chelsea, literally. "I was a delivery customer for a long time and always dreamed of working here. I would tell my husband about it all the time, to the point where he'd get annoyed."