Kaylee Pillon is not a big fan of celery, "it hates me, I hate it, it's a mutual understanding."
Kaylee, a market specialist and delivery packing lead, calls celery annoying to eat, requiring too much chewing with little taste payoff. "What's even the point?"
Kaylee, a Harrow native, has worked at Lee & Maria's off-and-on since she was a young high school student in 2016. She's now studying Social Work and Disability Studies at the University of Windsor.
At the start of the COVID pandemic in March, Kaylee returned to Lee & Maria's and began working in the delivery service packing boxes. She worked packing orders for over 1,000 families each week, allowing customers to stay home as much as possible. When several market team members were forced to stay home because of health concerns, she filled the holes left by their absence, allowing the market to remain open.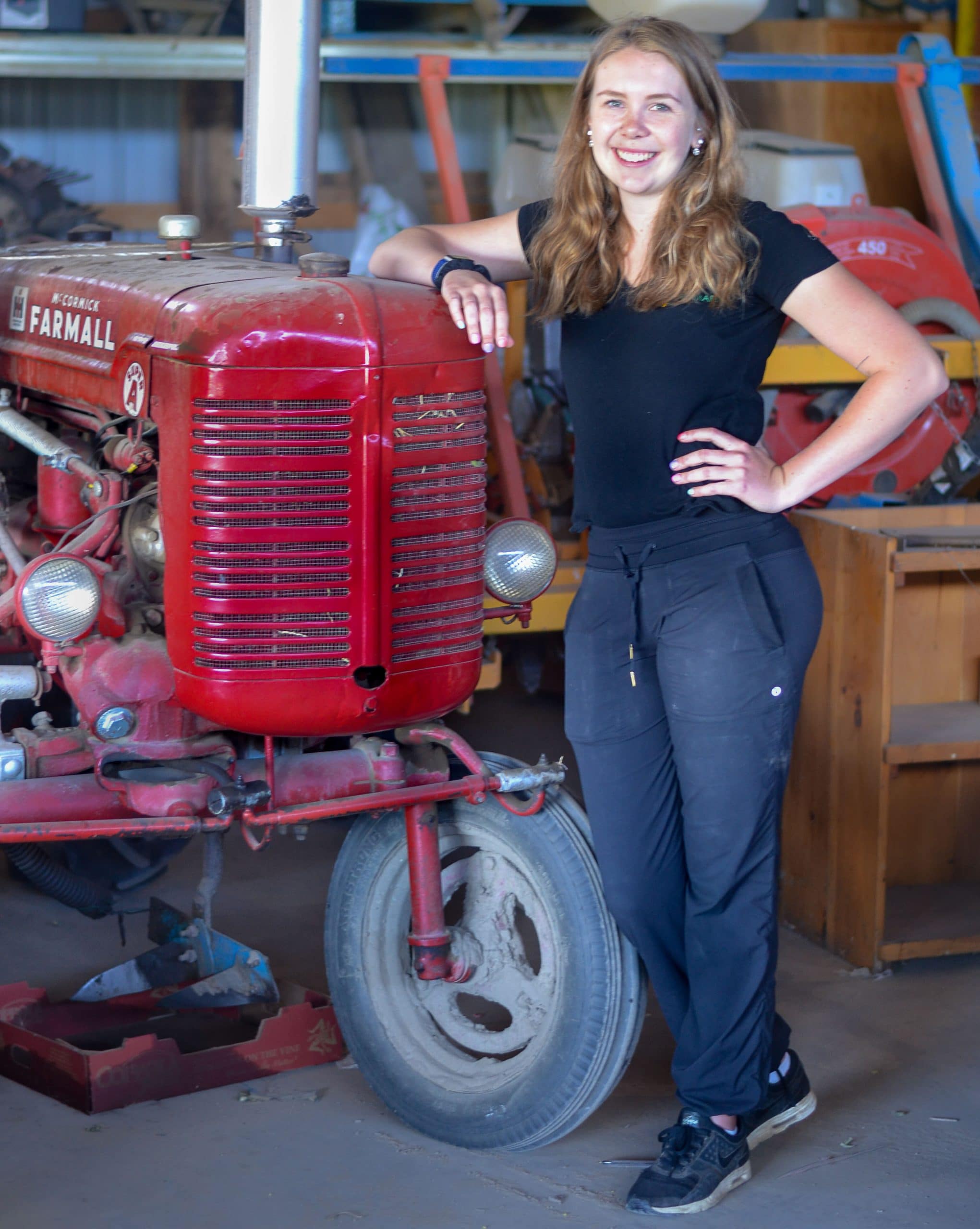 Having a family at home and at work is really cool
"My favourite part is being able to say that I helped people who were in need. I allowed them to keep eating fresh when they were scared to leave their homes."
Since she works so much, Kaylee's free time is minimal. In a COVID free world, you would have found her on Harrow's baseball diamonds playing or umpiring. She also loves horseback riding and hitting Lake Erie.
According to Kaylee, her cool facts are: being left-handed, being bilingual (French), and having had six broken bones. In that order.
Kaylee's travels have been mostly out west to Alberta and Saskatchewan. "When I visited Banff a couple years ago, the mountains were absolutely breathtaking."
Kaylee has quit Lee & Maria's four different times but keeps coming back. "Having a family at home and at work is really cool," she says. "Being a part of a small local business is different because everyone is always so fascinated by what we sell and what we do. It's not the same experiences I've had working at any normal grocery store."
As stated, Kaylee hates celery. Her favourite snack is a crunchy apple. "There are so many different kinds, best for either eating or baking. So, each apple is special in its own way."
Lee & Maria's isn't Kaylee's first time around a farm, growing up with aunts and uncles who own farms, but "normally, I'd just sit in the tractor for a ride." During her four years with Lee & Maria's, she says she learned a lot about produce and general life skills. "I know many random facts about produce now I don't realize until I answer questions on how to store produce properly for it to last as long as possible, the typical season of each vegetable, how to trim produce, and so on."
Her favourite part of the job is the customers. "Opening up the market in the morning and hearing comments from customers of how beautiful it looks always makes my heart smile," she says. "We have some pretty great customers, and I love when they ask questions and are curious about our produce and products. It shows they want to know more and care about the work the other local companies and us put in."
"I also remember the wedding party that came in one fall day for pictures; that was pretty cool too."
Learn More About the People, Crops & Products that make Lee & Maria's Special
Supporting Healthy Eating on #GivingTuesday
KINGSVILLE - On this #GivingTuesday, we are supporting people who find barriers in accessing healthy food options. We are donating $4,000 in cash and fruits and vegetables, spread across non-profit organizations that help those in need across the region.
New Names, Same Great Services
Some of our most popular services at Lee & Maria's are getting a new name. Less confusion equals more happiness. Learn more about changes coming to some of your favourite services.
Booch Kombucha: Local Producer Spotlight
By Rylee Wallace - A healthy lifestyle is always important to maintain; however, when you have an autoimmune disorder like Celiac Disease, it's even more essential to sustain a healthy lifestyle and diet! Shannon Kamins was a Health Science student at Western University when she started brewing her own kombucha in hopes of reducing the pain caused by her Celiac Disease. She would set up for the lengthy process on her kitchen counter, brewing 10 litres at a time, adding specific medicinal herbs she knew would be the most beneficial to her health, such as chaga mushroom, wild rose petals, and bee pollen.
Chelsea Stevens-Wiebe: Team Bio
Working at Lee & Maria's was a dream come true for Chelsea, literally. "I was a delivery customer for a long time and always dreamed of working here. I would tell my husband about it all the time, to the point where he'd get annoyed."