Ocean Bottom Soap Company
Like many who suffer from skin problems, Charmaine Gillis, owner of Ocean Bottom Soap Company, had a hard time finding a natural remedy after developing her own skin issues 28 years ago. Doctors and Skin Specialists insisted that the best form of treatment was to use steroidal creams, but that wasn't an acceptable solution for Charmaine. Little did she know that her search to find a natural remedy for her skin would lead to the well-known Ocean Bottom Soap Company.
After spending time researching at the local library, Charmaine finally found the perfect healthy ingredients to formulate an all-natural soap that would help clear her skin. Charmaine had always been conscious about what she put in her body and on her skin, so it was essential to her to use all-natural ingredients in her products as – after all, inside the body is typically where skin issues start! From the very beginning, each product and its ingredients were inspired by Charmaine's love of nature. Not a day goes by where she doesn't find herself in the beautiful outdoors, admiring all of life's creations and contemplating her next formula.
It was scary at first, but Ocean Bottom's number one priority was and still is, to help customers with their skin ailments, and that made it all worth it!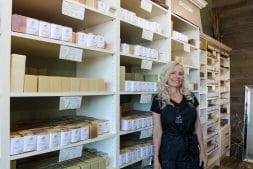 Once she got the hang of saponification (the process at the heart of soap making), Charmaine would start sharing with friends and family, and eventually signed her first wholesale deal in Almont, Michigan in 1993. Jump forward to 2014, and you would see Charmaine, now with years of experience behind her, lugging a big box of soap in through the front door, marching through security to meet with a department manager for what ended up being only a 4-minute meeting. And just like that, Ocean Bottom signed on to be the new hot vendor at Caesars Casino!
A year later, Charmaine and her husband, Mike, decided it was time for Ocean Bottom to open a retail store. It was scary at first, but Ocean Bottom's number one priority was and still is, to help customers with their skin ailments, and that made it all worth it! In efforts to create a brand that customers can trust, they continue to work with Doctors and Holistic Nutritionists to ensure every product is thoughtfully curated with safe and healthy ingredients, many of which are locally sourced. When elements aren't locally sourced, they are the highest quality raw ingredients from specific suppliers from around the world!
A Local Success Story
Ocean Bottom Soap Company has now been open for almost 5 years and living in its second location. The amazing team is comprised of Charmaine, her husband Mike, and a fantastic team of 7 ladies that all have their own remarkable strengths and are truly team players. Ocean Bottom has over 50 soap formulations available and 100+ essential oils in the Aromatherapy Blending Bar. There are psoriasis and eczema products, products that are safe for patients going through chemotherapy, whipped shea butters, masks, scrubs, and a men's line.
Lee & Maria's began carrying Ocean Bottom Soap in our on-farm market in 2017 and began offering it in the delivery service in 2018. The market sells a large selection of products to make it easier for residents at the south end of Essex County to get the products they love.
But, there is still nothing like walking into Ocean Bottom Soap Company with the hints of eucalyptus and mint filling the air that will instantly energize you. While there are already so many products to choose from, Charmaine and the Ocean Bottom Team are continuously working on new products. Who knows, there may even be some top-secret projects to look forward to! Wink, wink!
Learn More About the People, Crops & Products that make Lee & Maria's Special
New Names, Same Great Services
Some of our most popular services at Lee & Maria's are getting a new name. Less confusion equals more happiness. Learn more about changes coming to some of your favourite services.
Booch Kombucha: Local Producer Spotlight
By Rylee Wallace - A healthy lifestyle is always important to maintain; however, when you have an autoimmune disorder like Celiac Disease, it's even more essential to sustain a healthy lifestyle and diet! Shannon Kamins was a Health Science student at Western University when she started brewing her own kombucha in hopes of reducing the pain caused by her Celiac Disease. She would set up for the lengthy process on her kitchen counter, brewing 10 litres at a time, adding specific medicinal herbs she knew would be the most beneficial to her health, such as chaga mushroom, wild rose petals, and bee pollen.
Chelsea Stevens-Wiebe: Team Bio
Working at Lee & Maria's was a dream come true for Chelsea, literally. "I was a delivery customer for a long time and always dreamed of working here. I would tell my husband about it all the time, to the point where he'd get annoyed."
Giffin's Maple Syrup Products: Local Producer Spotlight
By Rylee Wallace - Growing up in a sugar shack sounds like every kid's dream! As a young girl, Diane Rivard, co-owner of Giffin's Maple Syrup Products, remembers helping her parents, Jean and Don Giffin, make maple syrup. Diane, a 3rd generation maple syrup expert, would sit and watch as her parents tapped their Blenheim sugar bush trees. They would collect the sap and boil it down into that deliciously sweet syrup.