Normally kids hate broccoli, except around Lee & Maria's. Our little farmers Lorenzo and Mia have always been big broccoli fans. We've actually caught Lorenzo sneaking heads of broccoli after they've been picked and eating them whole. The trick is eating it fresh. Broccoli can get soft as it wilts, which can make the texture a little strange when eating it raw. If you get it good and fresh it has a hard crunch like an apple or carrot.
Broccoli Straight From The Field.
The reason a lot of people eat broccoli isn't because of its delicious taste. It's because of health and weight loss benefits. Broccoli is a so-called "negative" vegetable, which means it takes more calories to digest broccoli than it has. You would need to eat a truckload of broccoli to see a true weight loss benefit, but that doesn't mean you should stop. Broccoli is loaded with antioxidants and vitamin A, both of which are great for your blood.
We've been growing broccoli at Lee & Maria's for decades. It's one of the easiest crops to grow and it can be started super early. We usually gamble by putting it in the field at the beginning of May and then we get an early May frost and curse the idea of planting early. Then we repeat it the next year because we never learn. In your garden, seed some broccoli them in an empty egg carton the last week of April. After it has germinated it should be a perfect time to safely plant in your home garden.
Here are our 5 Easy Ways to Use Broccoli (recipe to follow):
1. Broccoli Salad
Broccoli salad is a staple at Lee & Maria's BBQs. It's a delicious way to enjoy broccoli raw, keeping all of its nutrients intact. It's also delicious and usually has bacon, always a win (recipe below). There are lots of different variations of broccoli salad and we 100% support all of them.
2. Baked Broccoli
It's as simple as it gets. Heat an over to something hot, throw in the broccoli and let it cook until it's cooked. Want to go really crazy? Add some salt, pepper, and sprinkle a little parmesan cheese on top to form a crust. Delicious.
3. Soup
Immediately you're thinking cream of broccoli soup, which is delicious on those cold winter nights. However, we're also big fans of making broccoli the centrepiece of traditional vegetable soup. The broccoli adds a bit of weight to the soup making it seem more filling. It also adds a slight tanginess which gives the soup a bit more depth. Broccoli; miracle worker.
4. Broccoli Pasta
It seems like blasphemy to our Italian roots, but bite-sized broccoli pieces in a simple garlic and oil pasta adds just enough to make it a filling and slightly healthy meal.
5. Grilled Broccoli
A little char on vegetables is always delicious and broccoli is no different. We like to do it a little differently than some. We'll cut the whole head of broccoli in half vertically down the centre. Add a little salt, pepper, and some canola oil and throw it on the grill. The flat side of the stalk will burn slightly, making it absolutely delicious. No need to waste half the vegetable when you cook it this way.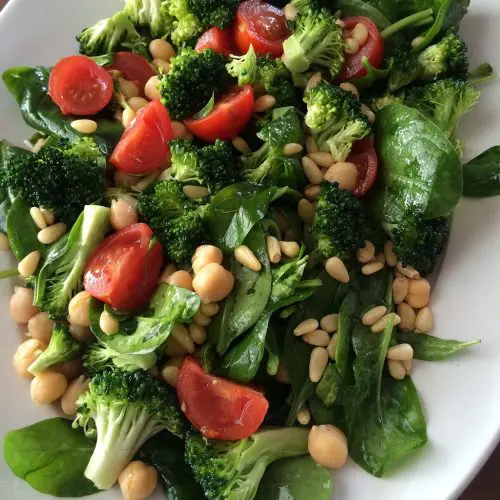 Broccoli Slaw
A delicious broccoli based salad that is always a crowd pleaser.
Ingredients
2

heads

fresh broccoli

1

red onion

½

lb

bacon

¾

cup

dried cranberries

¾

cup

pine nuts

1

cup

mayonaise

½

cup

white sugar

2

tbsp

white wine vinegar
Instructions
Fry bacon over medium high heat until evenly brown. Allow is to cool and then crumble.

Cut the broccoli and red onion into bite-size pieces. Combine with the bacon, cranberries, pine nuts and mix well.

To prepare the dressing, mix the mayonnaise, sugar and vinegar together until smooth. Stir into the salad, let chill and serve.
Notes
If making ahead, wait to dress the salad until an hour before serving.