Market Online, A New Way To Shop Local
In March 2020, as the world was beginning to shut down and people were being forced to hide in their homes because of the COVID-19 pandemic, we knew we were going to have to change the way we did business. People needed a convenient way to shop that limited their exposure to the virus, so we got to work.
In less than a day we built the In-Market Pickup site. It allowed people to shop our market shelves from home and schedule a pickup at our farm. It was wildly successful. For us it made us happy knowing people who were vulnerable or stuck in quarantine were still able to eat local and healthy.
Tweaking The System
As the season has gone along, we've looked for ways to tweak our service to make it even more convenient. We've added local wines and beers, we've expended our pickup times, and we've added new and different products that people wouldn't normally have access to. It has all lead to today, where we launch brand new delivery, pickup, and shipping options.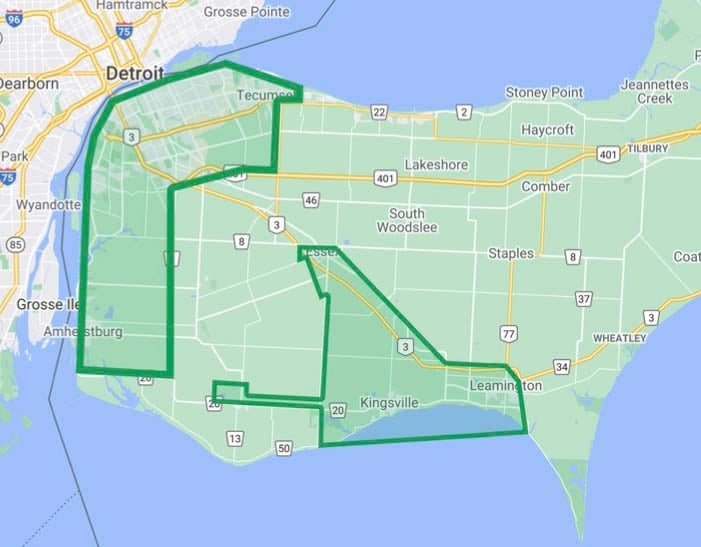 Depending on where you live, you will still be able to receive amazing locally grown fruits, vegetables, and products all year round.
We will continue to offer same day curbside pickup at our Kingsville On-Farm Market. You can order and pick it up from our market within two hours. All of the same great products are available including all local wines and beers.
If you live inside the green area on the first map (Basically most of Kingsville, Leamington, Wheatley, Harrow and Essex) we will deliver to you on Tuesday, Wednesday or Friday. If you are in the green area on the second map (Windsor, LaSalle, Tecumseh) we will deliver to you on Thursday. We require one day's notice, so if you order on a Tuesday we will deliver it to your home or workplace on Wednesday. If you order on the weekend, we will deliver it on Tuesday. These options could change depending on demand. If we have more demand, we will expand to more days. All of our products will be available, including beer and wine. However, a person 19+ will need to be home to accept the order.
For those of you who love our products but don't live in the region, we've got options for you. We're partnering with Canada Post to provide safe and timely shipping of all of your favourite Windsor-Essex products. This includes our fruits, vegetables, fresh bread, cooler items, groceries, wines, beers, and more.