Feta Pasta By Ava Augustine
Is the Viral TikTok Feta Pasta Worth the Hype?
A year into the pandemic, is there a single person who hasn't developed a raging TikTok addiction? If you're like me, you've seen the "TikTok Viral Baked Feta Pasta" all over the site. I can't help but wonder how good it will taste in real life when I, a 17-year-old teen with very limited cooking skills other than the occasional bowl of cereal give it a shot. Is it as delicious as it looks, or is it just the magic of our virtual world? So, let's dig into this viral pasta and see if it's worth all the glorious hype. I based this post on a version of the recipe from the Washington Post.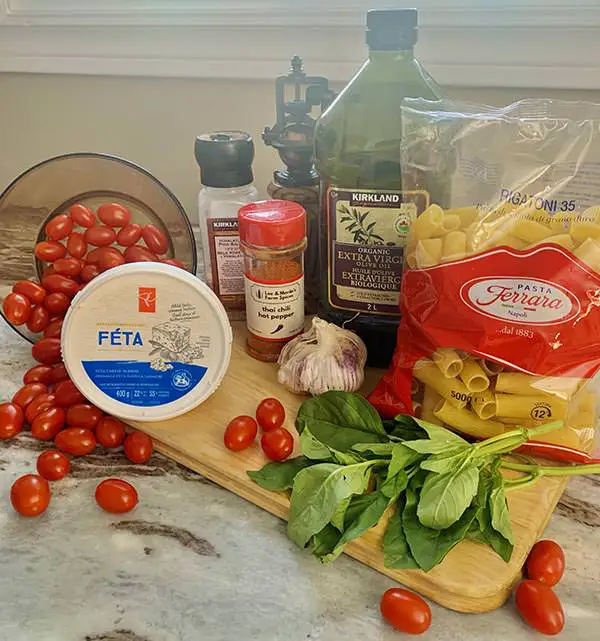 Normally, I'm the girl who picks the feta off her Greek salad, so this recipe was daunting. I have spent too much time researching and watching the art of folding the softened gold cheese through the pan of baked tomatoes. It seems easy based on how seamlessly the chefs online perfect such a creative dish. But before I get too ahead of myself, I must start with the basics, the ingredients. Now, I am the furthest thing from a picky eater, so I decided against any. I started with a bag of Rigatoni pasta, two fresh stems of basil, a pint of ripe cherry tomatoes, a block of feta cheese (around 300g), olive oil, salt & pepper, and a variety of chilli powders to add the extra kick.
Feta Pasta Step 1 – Shiny Tomatoes
First, after setting my oven to preheat at 400 F I thoroughly washed my fresh tomatoes and basil with warm water and set them aside on a cloth to dry. Given the heightened need for all things sanitary and clean, this step is absolutely a must! Next, I rolled the tomatoes into my 9" x 12" glass baking tray and drizzled the ¼ cup of extra virgin olive oil over top. With the tomatoes nice and shiny under their new glistening EVOO coat, I placed my circle of feta right in the center. Things were starting to look pretty good even without the cooking. Next came seasonings. I added salt, pepper, and a sprinkle of Thai chili powder just for fun. I myself love seasoned and spicy food but my family hates the heat, so the extra tap of chili powder was more an experiment to see how much they would notice in the dish. Some chili connoisseurs may reach for a different spice, I have heard red pepper flakes also go very nicely with this pasta, so choose whichever you have handy. 
Next up is the garlic. The recipe called for 4 but I say you can never get enough so I added two extra for good measure. Once they were peeled, I gave them an extra slice and tossed them gently through the tomatoes, spice, and oil. Just as I finished these preparations, the oven beeped, I added an extra drizzle of olive oil over the top of the feta block, and set it in on the middle rack to work its magic…
The Feta Pasta recipe I followed called for 40 minutes of cooking time in the oven. While I watched my creation caramelize with anticipation, I began to bring a pot of salted water to a boil and prepared my noodles. I waited to start my pasta until the oven had 20 minutes remaining and cooked the rigatoni until they were al dente. The water boiled and the rigatoni began to soften, just as the tomatoes in the pan below started to turn to a glorious concoction of ripe ruby red juice and bubbling oil. Finally, I was able to strain my noodles and set aside a cup of the salted pasta water in case the sauce was a little too dry. Just as I drained the pasta the oven chimed, signifying I could finally peek at what had made my whole house smell like Olive Garden for the past 40 minutes. For a girl who rarely cooks, opening that oven felt like Christmas morning. I carefully lifted my creation onto the counter and prepared for the most important part… mixing the sauce.
As the Tik Tok chefs I studied intently for far too long displayed, the mixing of the feta through the tomatoes was the glorious conclusion of this masterpiece. I folded the feta with great care through the tomatoey mixture and I must admit, it was just as satisfying as the videos I'd watched earlier. I now mashed the tomatoes with a clean fork and continued to blend the gleaming feta throughout the mixture. I decided that perhaps the feta could use a few more minutes to soften so it would mix through in the sauce even more, so I placed it back in the oven for about 5-10 extra minutes. If I were to make this recipe again, I want to try blending the sauce and adding the salted pasta water to make it a bit creamier.
Step 3 – Mixing Up The Feta Pasta
After the extra oven time, I slowly poured the rigatoni into the sauce and ever so tenderly folded them through. It was really starting to come together at this point, and I couldn't wait to test it out. I plated the feta pasta in about 4/5 generous servings and topped it with fresh basil leaves. My whole family took their turn testing out my creation and with great pride, I say they liked it.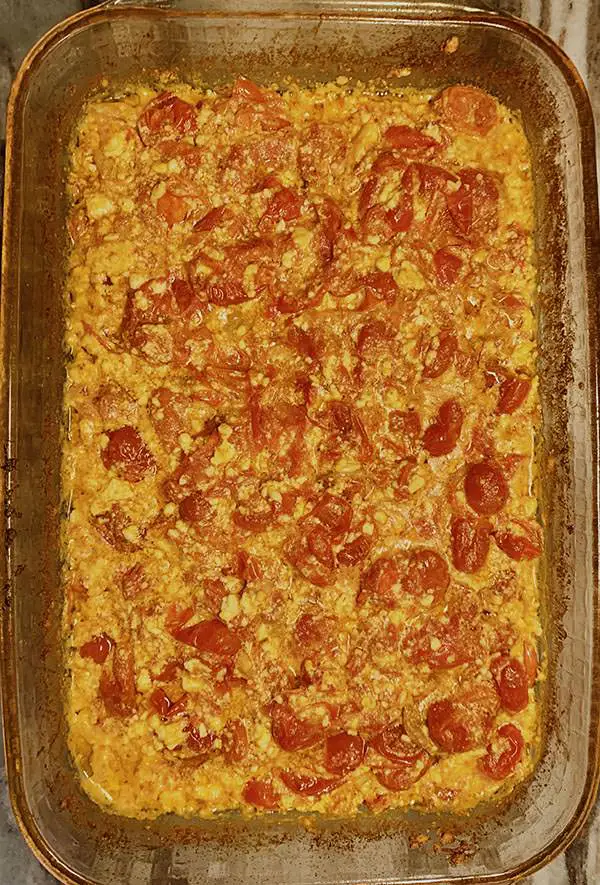 My mom enjoyed the basil on top and my sister loved the feta. My dad, much like me, likes just about any food and dug in for seconds. The feta cheese was just salty enough and the combination with the sweetness of the tomatoes made a perfect pair. The fresh earthy basil on top lightened any spice and gave it an overall fresh taste. Speaking of which… my family ended up enjoying the secret little kick of spice I added, so next time I might even try some pepper flakes on top just to push my luck. Overall, I understand why this feta pasta blew up online, and I would totally recommend testing it out! It's easy to make, customizable on many levels, making it great for families. I fed four and had leftovers for a great snack later.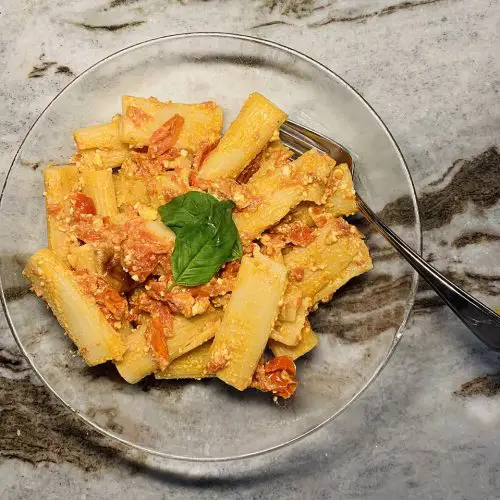 Feta Pasta TikTok Recipe
Ava Augustine
Feta Pasta Became a TikTok Sensation. Teenage Ava Augustine Gives It A Try
Ingredients
2

pints

Grape Tomatoes

4

cloves

Garlic

½

cup

olive oil

extra virgin

1

block

Feta Cheese

(7oz or 200grams)

12

oz

Dry Pasta

Rigatoni, Penne

½

tsp

Crushed Red Chilli Flakes

Black Pepper, Freshly Ground

Fresh Basil Leaves

for serving
Instructions
Position a rack in the middle of the oven and preheat to 400 F degrees.

In a 9-by-13-inch baking dish, combine the tomatoes, garlic and 1/4 cup of the olive oil. Sprinkle with some salt and toss to coat. Place the feta cheese in the center of the tomatoes and garlic, top with the remaining olive oil, and sprinkle the entire dish with red pepper flakes and a little black pepper. Bake for about 40 minutes, until the garlic, has softened, and the tomatoes have burst their skins.

Meanwhile, bring a large pot of salted water to a boil. Cook the pasta according to package directions until al dente. Reserve 1 cup of the pasta water and then drain the pasta.

Mash the feta and tomatoes with a fork and mix until evenly combined. Mix the sauce with pasta, adding the reserved pasta water as needed if it looks a little dry. Taste and season with additional salt and pepper, if desired. To serve, divide among bowls and top with plenty of basil leaves.
Ava Augustine is a Kingsville District High School student who works at Lee and Maria's. She has a love of food and writing. Watch for more of her delicious blogs and cook along with Ava.