Just outside of Harrow, Ontario lives the 300-acre Wrightland Farm. Year after year, they grow some of the tastiest asparagus in the county. If there is one way to prove this point, it's by the line-up of cars outside the farm on the opening day of the season!
Keith Wright, owner and 5th generation farmer at Wrightland Farm, had always been involved in the family business. It wasn't until he graduated from the University of Guelph that he officially became a partner at the farm. Today, he runs the farm with his son, David, and hopes that the legacy will continue with his grandchildren.
Wrightland Farm has been growing asparagus for 45 years, and although it's a perennial crop that can produce for 20 years or more, it is still quite labour-intensive to grow. How labour-intensive you ask? On the Wrightland Farm, new seedlings are planted in field beds and matured for one year until the asparagus crown (or root) can be transferred into a commercial growing field. The crown will grow another two years before it can be harvested in its third year of life, and even then, the harvest only lasts a couple of weeks. In the fourth year, the harvest will last much longer at around 6 weeks. Talk about good things come to those who wait!
Keith admits that he hadn't realized the farm's asparagus had such great flavour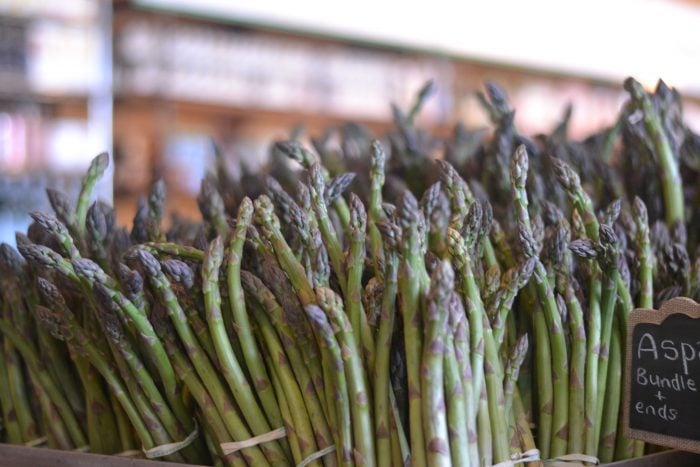 Of course, with such a large farm and heavy workload, it's no doubt that it's all-hands-on-deck! The asparagus operation alone requires 15 team members working in the field and an additional 15 working to grade and pack. Keith's wife, Susan, who plays a vital role at the farm, oversees the pack barn employees and the retail space, making sure every customer has a top-quality experience all around.
Despite having years of experience perfecting the craft, Keith admits that he hadn't realized the farm's asparagus had such great flavour until a chef cousin had taken some back to his restaurant kitchen in Vancouver. The feedback from his cousin's chef friends was outstanding, and Keith knew then he had something special in his crop.
While Wrightland Farm is widely known for its asparagus, it actually only makes up 38 of the farm's 300 acres of land. The remaining acreage is made up of apples, cantaloupe, peaches, and grain crops such as corn, soybeans and wheat. This variety is an excellent way to fuel Keith's favourite part about farming – growing healthy fruits and vegetables for people to consume!
Asparagus season may be over for the 2020 year, but next year, as soon as locals can get their hands on the Wrightland Farm asparagus, they'll be lined up once again! During the asparagus season, you can purchase Wrightland Farm asparagus from their Ridge Road location and at Lee & Maria's.
Learn More About the People, Crops & Products that make Lee & Maria's Special
Supporting Healthy Eating on #GivingTuesday
KINGSVILLE - On this #GivingTuesday, we are supporting people who find barriers in accessing healthy food options. We are donating $4,000 in cash and fruits and vegetables, spread across non-profit organizations that help those in need across the region.
New Names, Same Great Services
Some of our most popular services at Lee & Maria's are getting a new name. Less confusion equals more happiness. Learn more about changes coming to some of your favourite services.
Booch Kombucha: Local Producer Spotlight
By Rylee Wallace - A healthy lifestyle is always important to maintain; however, when you have an autoimmune disorder like Celiac Disease, it's even more essential to sustain a healthy lifestyle and diet! Shannon Kamins was a Health Science student at Western University when she started brewing her own kombucha in hopes of reducing the pain caused by her Celiac Disease. She would set up for the lengthy process on her kitchen counter, brewing 10 litres at a time, adding specific medicinal herbs she knew would be the most beneficial to her health, such as chaga mushroom, wild rose petals, and bee pollen.
Chelsea Stevens-Wiebe: Team Bio
Working at Lee & Maria's was a dream come true for Chelsea, literally. "I was a delivery customer for a long time and always dreamed of working here. I would tell my husband about it all the time, to the point where he'd get annoyed."